In March of 2010, I was visiting Walt Disney World with my family. Dad has been over the idea of walking around till his feet are blistered for a while at that point, so he stayed home in Tallahassee. Probably on the back porch, playing his harmonica, with a glass of sweet tea in close proximity. So it was me, my mama, my sister and some friends of the family spending three days in what has become one of my favorite places on Earth.
I had spent the previous months working on what I called The Disney Project. I watched every animated classic starting with
Snow White and the Seven Dwarfs
and getting all the way through
The Great Mouse Detective
. It exploded my universe. I had collected most of the Disney movies here and there over several years (I am a bit of a media hoarder), but had mostly watched the special features or put them on in the background. I was not prepared for what watching the actual films all the way through in chronological order as an adult would do to me. It gave me an appreciation for the artistry of the films. I was moved emotionally. I shared the experience with friends, who would drop by to join me for a film or two and share in the discussion. It became a significant part of my life.
As my Saturn had just returned, I was immersing myself in the films of my childhood. Now, over a year later, I am moved to start this blog to explore what exactly it is about Disney that has ingrained itself into the second third of my life with such a vengeance. My friends kept telling me that I should blog the Disney Project. So here I am. Doing that and expanding the scope a bit. I will share thoughts from the Disney Project, along with my opinions on Disney news, music, parks, attractions, and anything else Disney related that strikes my fancy. I have no affiliation with Disney officially. Just a lot of love and curiosity. And opinions. A lot of opinions.
Where was I? Oh! Now this all started with a story about a fateful trip to the Magic Kingdom in 2010. This lil' nugget will give you a sense of what you may be in for with this blog. Gird your loins, folks. It's a doozy. One of the things I wanted to do most on this trip was get off of the Monorail at the Contemporary and take a look at the Mary Blair murals. I had become enamored of this woman's incredible artwork- the colors, the innocence, the playfulness- and I wanted to take some time to soak in this major piece of her artwork. The day in the park was lovely and the plan had been to hop out on the way back to the parking lot and take a looksee.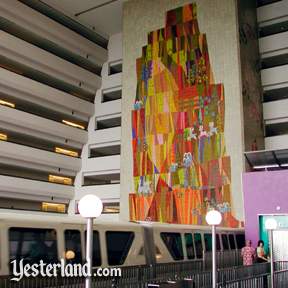 As the day wound down, I was starting to feel a little bit wonky. Not sick, but not quite myself. I had done everything in the park except for Space Mountain, so, after a moment of contemplation bracing myself in a Main Street doorframe, my sister and I headed over to take in one last attraction. I can be a bit of a completist when it comes to taking it all in at the parks. Bad move. As soon as the ride was over, I knew something was up. We made our way our of the park.
When we got to the monorail platform, I was woozy. Some evil beast of groty was taking over my body and I wasn't quite sure what to do about it. I told everyone that I wasn't feeling well, to which my sister (who is really a lovebug once you get to know her) promptly replied, "Stop complaining." There was, blessedly, an empty bench halfway up the crowded ramp, so I sat down to wait for the next train. The train came and we started moving toward it. I was almost a step closer to the hotel room, where I could feel like doo doo in private. I was bracing myself on my mama's shoulders. She was blissfully unaware, assuming I was either being lazy or loving. Though I can often be both of those things, this time it was different.
This is where things get hazy for me, but from piecing together fragments of memory and hearsay, I can provide this much narrative for what happened. I told mama that I couldn't see anything, which she thought was odd, so she turned around only to have me black out and collapse on the platform as we were about to enter a car on the middle of the train. When I came to, my stomach was churning. I repeated "Bag, bag, bag" like I was in a production of
Noises Off
. My brave sister quickly consolidated all of our souvenir treasures into one bag, freeing up the other for me. I promptly filled it with my puke. After it seemed that I had emptied my stomach out completely, my sister took the bag and tried to get it to the trash can as quickly as possible. Crisis averted. Almost. The bag slipped. The bag dropped to the ground. Protein spill on the Monorail platform. Mortified 29-year-old male is the culprit.
By this time, I was at least somewhat lucid. Half of the platform had to be shut down as cleanup commenced. Two paramedics came to check me out. As a single (at the time) gay man, this was not the state that I wanted to come into contact with two handsome, cheerful men in the medical profession. I grinned, wiped away tears, told them I was embarrassed but otherwise fine and just wanted to go home. They took some vitals, had me sign a piece of paper probably saying I wasn't going to sue, and vanished as quickly as they had appeared, gurney in tow. I hopped on the next train. The mess was cleaned up as if it had never happened. Anyone who had seen the incident was now back in the parking lot, wearily laughing about what happened and looking ahead towards another day of magic.
Meanwhile, my family and I got our own monorail car all the way back to the parking lot. We drove back to the hotel. I was sick several more times spanning the ride home and the entire night. The next day was Epcot and I had planned to join in my first Drink Around the World experience. Needless to say, that didn't happen. I got out of bed very late, went to the park and slowly waddled about with my amazing, patient mama. We went on Spaceship Earth and Soarin'. We walked. Slowly. And met up with my tipsy sister and her friend in Mexico, where they were enjoying a drink at the tequila bar.
Though it may not have been the ideal Disney visit, do I even need to justify the fact that I was happier being sick at Disney than I am most days in NYC, sitting at my desk, living out a sad eight hour span of time in a parody of
The Devil Wears Prada
mixed with
Groundhog Day
and just a sprinkle of
Zoolander
? That's why Disney is the happiest place on Earth. I can be sick out both ends and still be happy just to be alive, though inconvenienced. I'm just sad I didn't get to drink around the world.
By the way, I didn't get to see the mural that night. I flirted with the idea, but just felt too puny. My sister, bless her soul, tried to snap some pictures, but they came out blurry. But as a happy footnote, I visited again a few months ago and after a full day of amazingness at the Magic Kingdom, I stopped at the Contemporary with my fiance, who had accepted my proposal earlier that day in the stretching room of the Haunted Mansion. We got out and explored the mural, awestruck. It really is an incredible and epic piece of art. Mary Blair snuck a bit of a joke into it, giving one of the goats five legs because she believed that art should not be perfect. And now that little five legged goat holds a special place in my heart, reminding me that imperfection is not only something to accept and embrace, but can sometimes be by design.
That's all for now. I would love for you to join in the conversation at any point in this journey I'm taking. Share thoughts, memories, opinions. I would love to find a community of people who have been moved by the mouse!